Megan and Mathew's Story:
We met during his freshman year and my sophomore year at USF in our Intro to Theatre class. We ended up working on our final project together which was a 20 minute play titled Ghostlight Theatre which I wrote and directed and he acted in. We became friends and he invited me to the movies with a group he had put together and no one ended up coming except for my friend Perrin, Matt and myself. We saw a really bad scary movie titled "Hostel." After my friend left we were still hanging out and at the end of the night he asked me if he could kiss me and I said no. We hung out again the next two days and he asked me again each day and I said no again. I think he got fed up because before he left the third day he just kissed me. I was really shy and he still makes fun of me for being so awkward. We started working on shows together at The Gorilla Theatre and kind of fell in love while working on their production of The Last Five Years.
We are both work in Theatre and both Direct, though he acts as well. Both of his parents are Theatre professionals. His father actually teaches at the USF and taught us both while we were there. We've worked on quite a few productions together since our first one. We love watching movies (Matt's an aspiring Film Director,) listening to music, reading, and discussing/arguing about all of those things. We enjoy doing really kitschy things like put-put golf, go cart racing, and going to tourist traps. We also love traveling and being foodies. We are addicted to Food Network and the Travel Channel.
Megan and Matthew selected Congro River Rapids for their engagement session location because they have a fun-loving relationship and enjoy games and nature.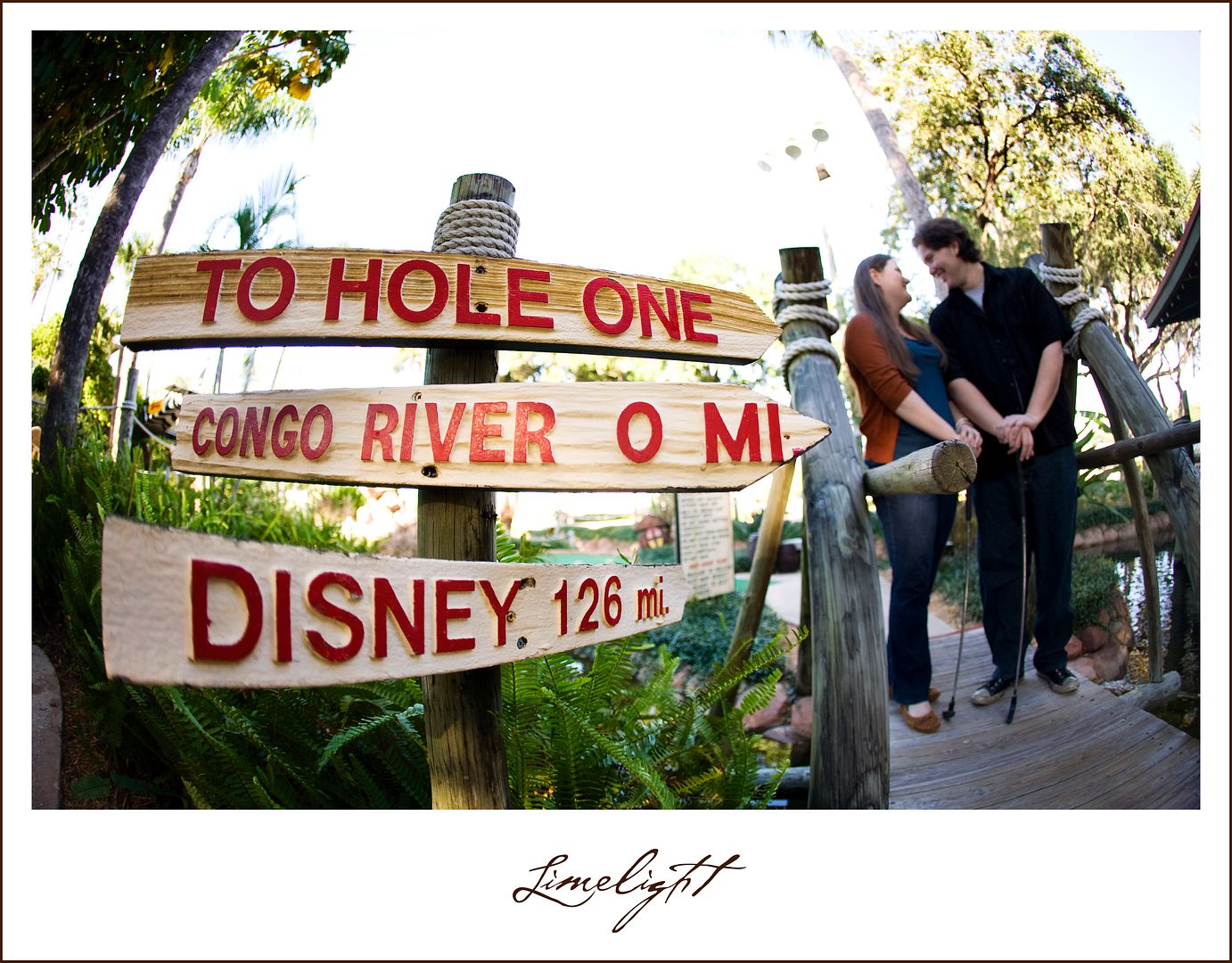 Megan's Claddagh Wedding Ring:
It's hard to find the history of the ring since so much of it is most likely myth and folklore. Here is what I did find on this history that is most likely: "One legend that may be closer to historical truth is of a man named Richard Joyce, another member of the Joyce clan and a native of Galway. He left his town to work in the West Indies, intending to marry his love when he returned. However his ship was captured and he was sold as a slave to a Moorish goldsmith. In Algiers, with his new master, he was trained in his craft. When William III became king, he demanded the Moors release all British prisoners. As a result, Richard Joyce was set free. The goldsmith had such a great amount of respect for Richard Joyce that he offered Joyce his daughter and half his wealth if Joyce stayed, but he denied his offer and returned home to marry his love who awaited his return. During his time with the Moors he forged a ring as a symbol of his love for her. Upon his return he presented her with the ring and they were married."
The symbolism is this: The hands stand for friendship, the crown for loyalty, and the heart for love.
Matt chose to get me a Claddagh engagement ring because he liked the symbolism and because he thought I would love it because I'm Irish (which is true! I love my ring!) Matt's wedding band is going to be a Claddagh and mine will most likely be a band with Celtic knots on it. We both feel that the symbolism for the Claddagh is representative of what we find important in our relationship. We are best friends and that friendship is a huge part of what makes our relationship so strong. Loyalty is hugely important in every relationship and is definitely something we believe in strongly. We are also deeply in love on many levels. We feel you need all these things to have a strong relationship and marriage.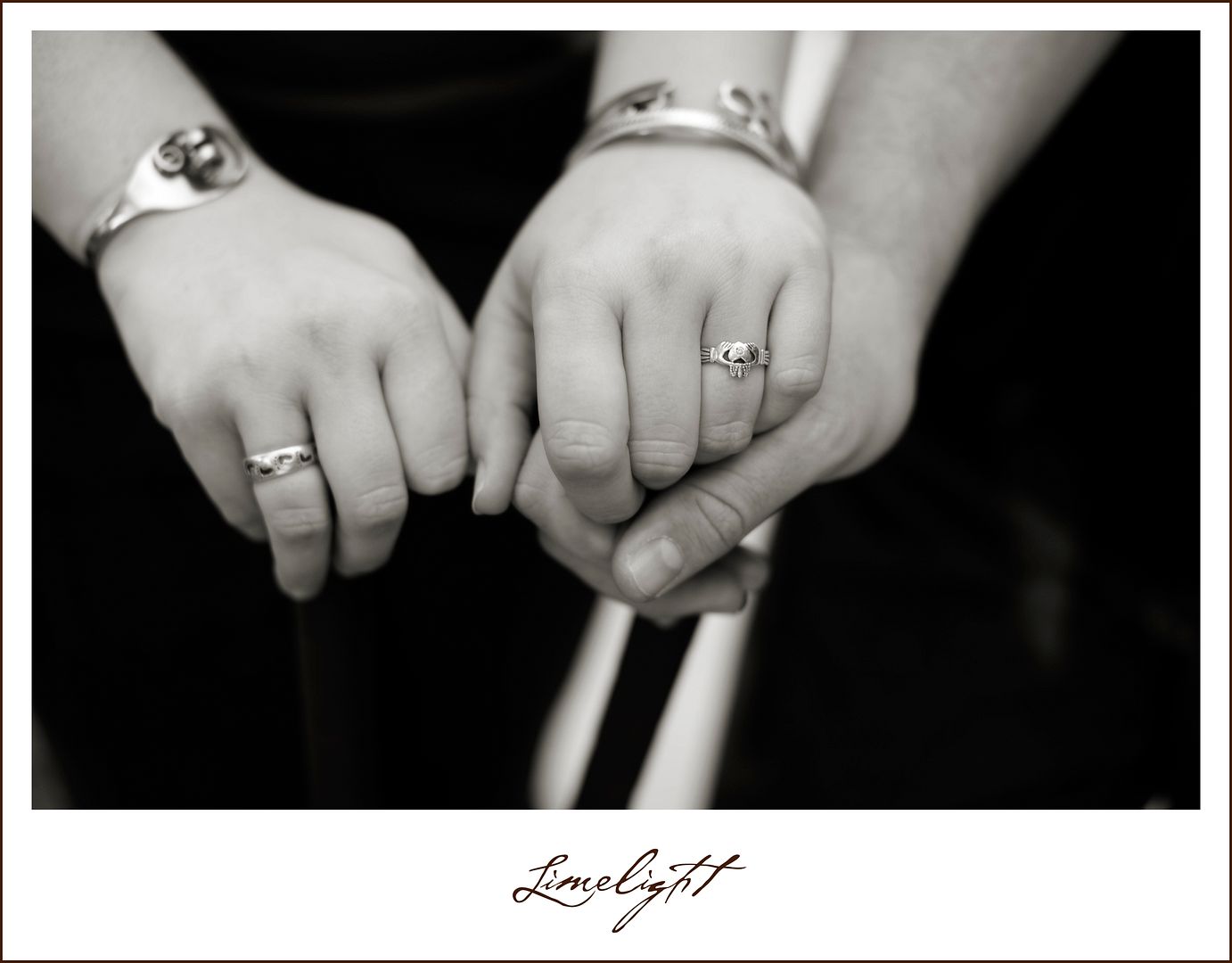 Matt and Megan's love for Otters:
We also love Otters. One of the first stuffed animals Matt got me was an Otter he got at the Chicago Aquarium when he went on a trip with his family which I still sleep with every night! We love going to visit the Otters at the Aquarium. Matt even adopted an Otter for me for one of our anniversaries. Hence the Otter back pack I brought to the shoot which I found at Lowry Park Zoo.
Megan's Moccasin Shoes:
My mom is fascinated with Native American culture and enjoys going to the local Pow-Wows. She ordered herself a pair of the Peace Moccasins I was wearing and made the mistake of letting me try them on. I loved them. They are so cute and comfortable and so my mom was really nice and let me keep them. I love them and wore my first pair into the ground so my mom bought me two more pairs for my birthday!
Matt's Chucks:
He loves his Chucks and has obviously worn them to death which in his opinion makes them all the more cool.