A few of the details
Dessert Table: We had the color scheme pinned down (light blue and yellow); however, since now the shoot was taking place at the beach, I felt the table had to reflect this we-just-put-this-together, but still looks amazing table. I also wanted to stay in this budget-friendly area so we worked with desserts that were accessible but still looked great on the table. Oversize chocolate cookies and white chocolate-dipped oreos; white powdered donuts; gorgeous fondant-covered cookies with a dozen flowers on them; and our "shout out" to Style Me Pretty sugar cookies.
And you cannot have cookies without milk so we set up a bucket various sizes of milk bottles and shot glasses. *Tip: a few of those bottles, are actually Starbucks bottles with the labels take off and the bottle cap spray painted. The shot glasses we had on the table were topped off with blue-striped paper straws and a cute little, "I-do" wildflower motif tag, courtesy of Laura Larson, herself. I mean, since her wedding was the original source of inspiration, it only seemed natural to have as part of the team.
We also took some plain, vanilla cupcakes and topped them off with these amazing fondant toppers reflective of this wildflower motif that was used throughout.
And finally, in order to satisfy everyone's sweet tooth, gum balls, gummi bears and chocolate-covered sunflower seeds were added to the mix.
Backdrop: And though we had the gorgeous Beach House Restaurant/Beach as our backdrop, I love work with ribbons as a great (and affordable) source for décor, so we did a ribbon wall, working off various shades of yellow and blue. When we got there, we had this lovely wind running through so the ribbons kept on blowing back and forth and it was just perfect.
Photoshoot Team:
Photography: Limelight Photography/Rebecca and Michael Zoumberos/www.stepintothelimelight.com
Talbescape Concept and Design/Model: MMD Events/Amanda and Matt Allan; Lauren Grove/www.mmdevents.com *Little Black Book Members
Dessert Table Concept and Design: Chic Sweets/Natalie Clamp/www.chicsweets.net
Printing goods/Signage and Custom Blooming Pillows: Two Yellow Shoes/Laura Larson/www.twoyellowshoes.com
Linens: Linens By the Sea/Allison East/www.linensbythesea.com
Venue: The Beachhouse Restaurant/www.beachhouse.groupersandwich.com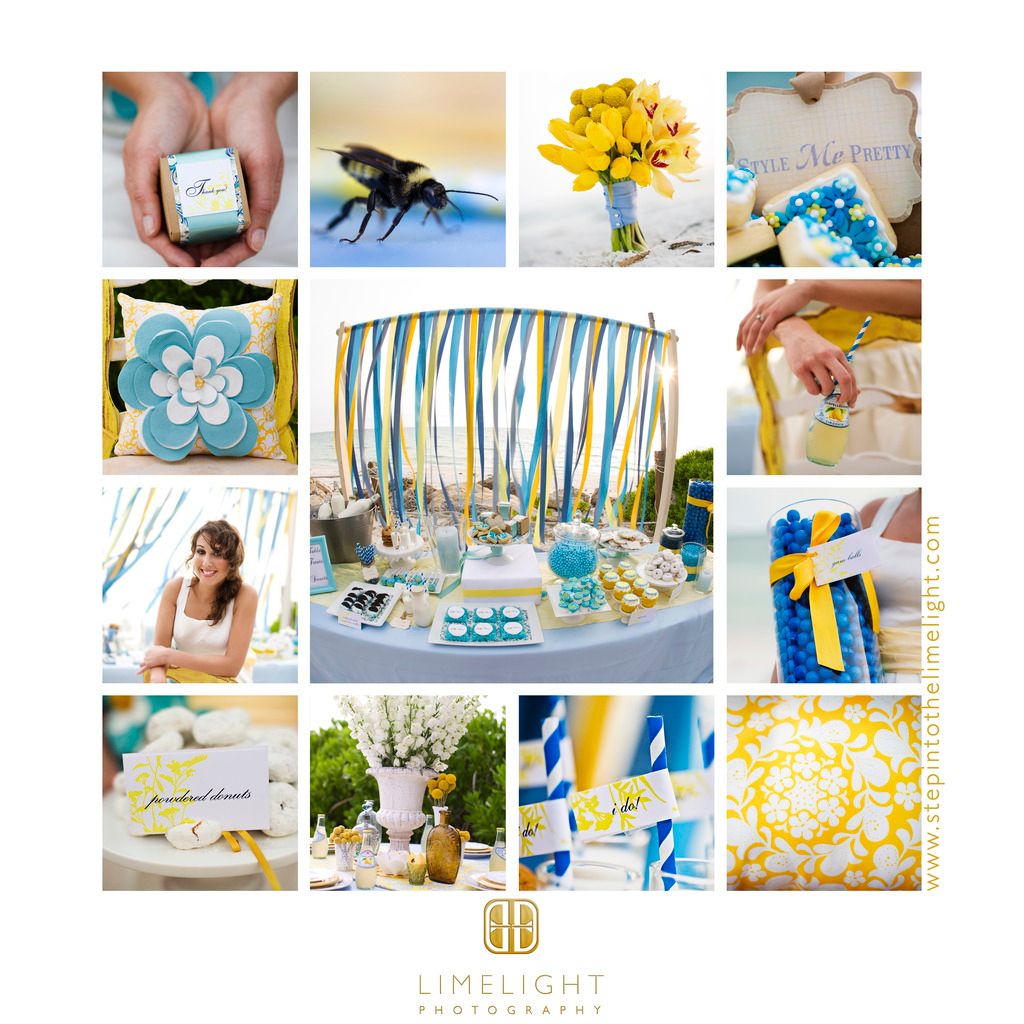 For more information about Limelight Photography please visit | www.stepintothelimelight.com