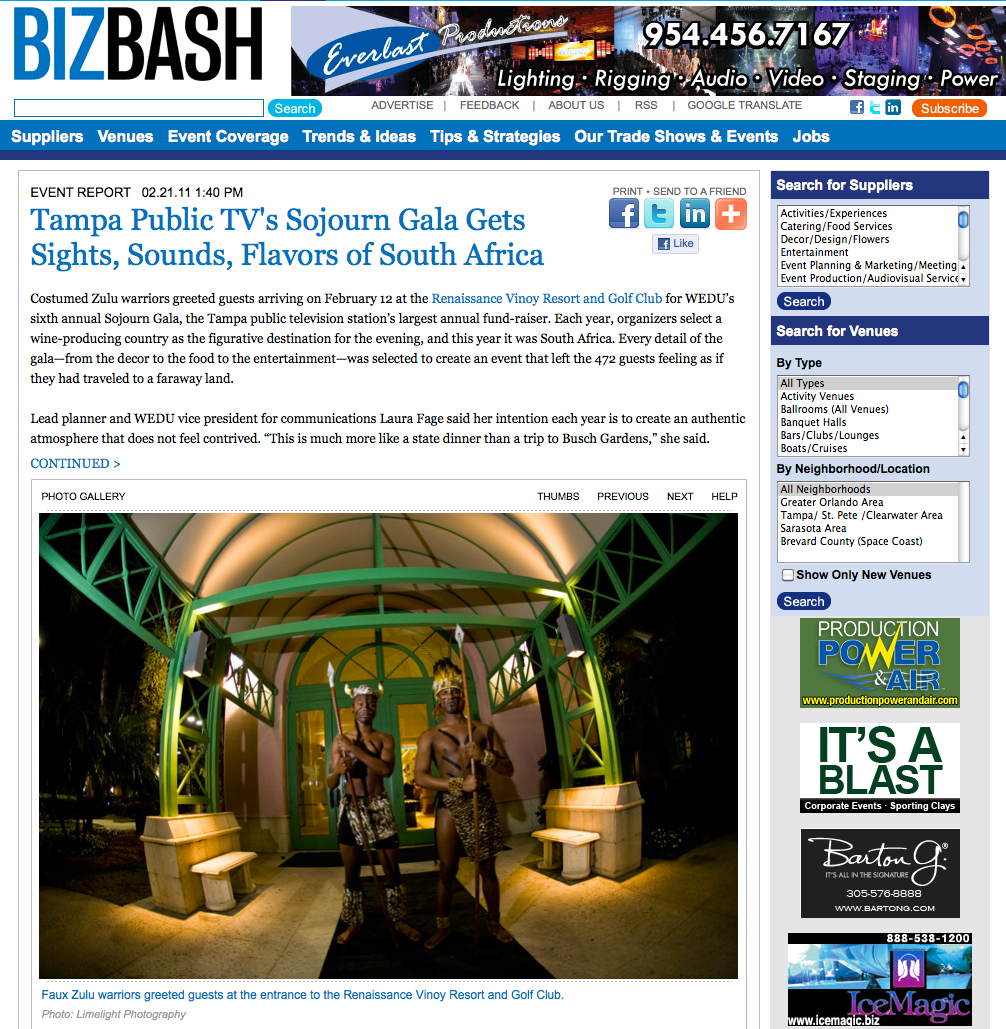 Biz Bash Article Featuring Limelight Photography:


Working with
Premier Beverage
, Fage selected South African wines to complement the menu of authentic dishes.
"We gathered the 10 best menus from restaurants in South Africa and gave them to our chef so they could create something you would actually find in that country," she said. This year, guests dined on
kitfo
venison tartar and potato-pea samosas at the reception. Dinner began with a green salad topped with toasted pumpkin-seed brittle, followed by seared beef with sable fish tagine braised with North African tomato sauce and served with a sweet potato pancake.
About nine months before the gala, a planning team led by Fage and designers from
conceptBAIT Global Events and Floral Design Group
began researching South Africa to develop the decor.
"We looked it up online; we also looked at different programs from P.B.S. that dealt with the region," said Frank Clemente, senior designer and producer at conceptBAIT. "Every time I looked up something about South Africa, all I could see everywhere was texture and geometric shapes."
Clemente and his team draped flowing fabric in white and gold from the ceiling to add dimension and give the ballroom the ambience of a large safari tent. They covered one wall with a backdrop resembling the African plains, with animals in silhouette. Ten thatched cubical chandeliers—each four feet tall and two feet wide—covered in mini bamboo and matte fabric hung throughout the room.
Bay Stage Lighting
filled the room with colors of gold and orange, evoking a distant sunset.
For additional authenticity, organizers brought in five Tampa-area artists who are either South African or whose work is representative of that region. For one hour during the reception, the artists displayed and created work that was available for purchase. African masked stiltwalkers known as
moko jumbies
also moved throughout the room. To signal the start of the dinner, nearly 30 dancers and drummers from
Life Force Cultural Arts Academy
performed a lively routine in the reception area and then led guests into the ballroom.
Ambassador Nomvume P. Magaqa, South African consul general, was the evening's guest of honor. Fage said she knew the sojourn was a success "when [the ambassador] walked in and got tears in her eyes and said that we had made her so homesick."
The gala raised $100,000 for WEDU, which is about the same as the net revenue from 2010's event.
—Mitra Sorrells